RadQual RadLite™ Flood Sources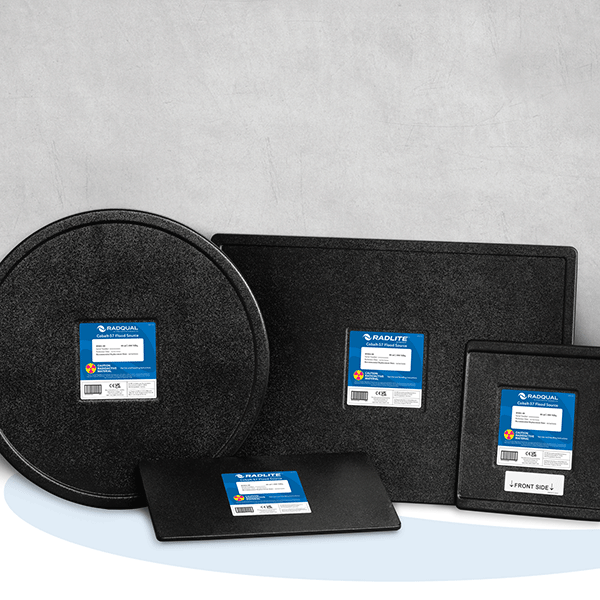 RadQual RadLite™ Flood Sources
RadQual RadLite™ flood sources…Lite Done Right!
60% lighter, 60% thinner and – as with all RadQual products – 100% guaranteed.
RadQual flood sources are available in a wide range of activities for both circular and rectangular shaped gamma camera detectors. See our flood source cross reference charts on the following pages to determine which source is needed for your camera make and model, or contact your RadQual dealer.
For flood source camera cross reference charts see below.
Related Products/Accessories
| Model No. | Weight | Overall Dimensions (in) | Co-57 Matrix (in) | Thickness (in) | Activity |
| --- | --- | --- | --- | --- | --- |
| BM01L | 5 lb | 24.1 x 16.7 | 23.8 x 16.4 | 0.35 | 5, 10, 15 or 20 mCi |
| BM02 | 5 lb | 20.3 | 18.5 | 0.7 | 5, 10 or 15 mCi |
| BM04 | 5 lb | 19.6 x 15.6 | 18 x 14 | 0.7 | 10, 15 or 20 mCi |
| BM05 | 2 lb | 11.22 x 11.22 | 10 x 10 | 0.7 | 0.5, 3, 10, 15 or 20 mCi |
| BM07 | 3 lb | 15.8 x 9.5 | 15.5 x 9.3 | 0.3 | 7.5, 10 or 15 mCi |
| BM55 | 2 lb | 11.22" x 10.26 | 10 x 10 | 0.7 | 20 mCi |
Flood Source Camera Cross Reference Chart
Philips - ADAC, Marconi, Picker
Camera Model
Configuration
UFOV (in)
Active Dimensions (in)
Recommended Nominal Activity
RadQual Model No.
ARC 3000
Circular
15
18.5
10 mCi
BM02-10
Argus
Rectangular
20 x 15
23.8 x 16.4
10 mCi
BM01L-10
Brightview
Rectangular
20.25 x 16
23.8 x 16.4
10 mCi
BM01L-10
Cardio 60
Rectangular
20 x 15
23.8 x 16.4
10 mCi
BM01L-10
Cardio MD
Rectangular
9.2 x 15.4
15.5 x 9.3
10 mCi
BM07-10
Cirrus
Circular
15
18.5
10 mCi
BM02-10
Forte
Rectangular
20 x 15
23.8 x 16.4
10 mCi
BM01L-10
Genesys
Rectangular
20 x 15
23.8 x 16.4
10 mCi
BM01L-10
Precedence
Rectangular
20 x 15
23.8 x 16.4
10 mCi
BM01L-10
Solus
Rectangular
20 x 15
23.8 x 16.4
10 mCi
BM01L-10
Cardial
Rectangular
20 x 15
23.8 x 16.4
10 mCi
BM01L-10
Vertex
Rectangular
20 x 15
23.8 x 16.4
10 mCi
BM01L-10
Skylight
Rectangular
20 x 14
23.8 x 16.4
10 mCi
BM01L-10
Axis/Irix
Rectangular
21 x 15.5
23.8 x 16.4
10 mCi
BM01L-10
Prism 1000 (1 head)
Rectangular
20 x 15
23.8 x 16.4
10 mCi
BM01L-10
Prism 2000 (2 head)
Rectangular
20 x 15
23.8 x 16.4
10 mCi
BM01L-10
Prism 3000 (3 head)
Rectangular
15.7 x 9.4
18 x 14
10 mCi
BM04-10
SX300
Square
14 x 14
18 x 14
10 mCi
BM04-10
Siemens Medical Systems
Camera Model
Configuration
UFOV (in)
Active Dimensions (in)
Recommended Nominal Activity
RadQual Model No.
3700, 7500 Orbiter Series
Circular
15.25
18.5
10 mCi
BM02-10
3700, 7500 Orbiter Series
Rectangular
21.25 x 15
16 x 24
10 mCi
BM02-10
Body Scan
Rectangular
23.5 x 15.75
23.8 x 16.4
10 mCi
BM01L-10
c.cam
Rectangular
14 x 8.4
15.5 x 9.3
10 mCi
BM07-10
Diacam
Rectangular
21.25 x 15
23.8 x 16.4
10 mCi
BM01L-10
e.cam (dual head)
Rectangular
21.25 x 15
23.8 x 16.4
10 mCi
BM01L-10
Intevo
Rectangular
21.25 x 15
23.8 x 16.4
10 mCi
BM01L-10
Multispect (dual head)
Rectangular
21.25 x 15
23.8 x 16.4
10 mCi
BM01L-10
Multispect 3 (3 heads)
Rectangular
16 x 12
18 x 14
10 mCi
BM04-10
Symbia
Rectangular
21.25 x 15
23.8 x 16.4
10 mCi
BM01L-10
EVO Excel
Rectangular
21.25 x 15
23.8 x 16.4
10 mCi
BM01L-10
GE Medical - Elscint, SMV, Sopha
Camera Model
Configuration
UFOV (in)
Active Dimensions (in)
Recommended Nominal Activity
RadQual Model No.
Brivio NM 615
Rectangular
21.25 x 15.75
23.8 x 16.4
10 mCi
BM01L-10
Discovery VH
Rectangular
20 x 14
23.8 x 16.4
10 mCi
BM01L-10
Discovery 530C
Square
9 x 9
10 x 10
20 mCi
BM55-20
Discovery NM 630
Rectangular
21.25 x 15.75
23.8 x 16.4
10 mCi
BM01L-10
Discovery NM/CT 670
Rectangular
21.25 x 15.75
23.8 x 16.4
10 mCi
BM01L-10
Discovery NM 750b
Square
9 x 9
10 x 10
20 mCi
BM05-20
Discovery NM /CT 850
Rectangular
21.25 x 15.75
23.8 x 16.4
10 mCi
BM01L-10
Discovery NM/CT 860
Rectangular
21.25 x 15.75
23.8 x 16.4
10 mCi
BM01L-10
DST/Dsi
Rectangular
12.99 x 14
18 x 14
10 mCi
BM04-10
DSTXLi
Rectangular
21.3 x 15.75
23.8 x 16.4
10 mCi
BM01L-10
DS7
Round
15.75
18.5
10 mCi
BM02-10
Hawkeye
Rectangular
20 x 14
23.8 x 16.4
10 mCi
BM01L-10
Infinia
Rectangular
21.25 x 15.75
23.8 x 16.4
10 mCi
BM01L-10
Maxi 2 and Maxi 37
Circular
15
18.5
5 mCi
BM02-05
Millennium MG
Rectangular
14 x 20
23.8 x 16.4
10 mCi
BM01L-10
Millennium MPR, VG
Rectangular
15.75 x 21.75
23.8 x 16.4
10 mCi
BM01L-10
Millennium MPS
Square
14.5 x 14.5
23.8 x 16.4
10 mCi
BM01L-10
Maxxus
Rectangular
21 x 16
23.8 x 16.4
10 mCi
BM01L-10
Myosite
Rectangular
20 x 14
23.8 x 16.4
10 mCi
BM01L-10
MyoSPECT
Square
9 x 9
10 x 10
20 mCi
BM55-20
Optima
Rectangular
14 x 9
15.5 x 9.3
10 mCi (7.5 mCi)
BM07-10
Starcam ACT
Circular
15.4
18.5
10 mCi
BM02-10
Starcam XCT
Circular
15.4
18.5
10 mCi
BM02-10
Starcam XRT
Rectangular
21 x 16
23.8 x 16.4
10 mCi
BM01L-10
Ventri
Rectangular
14.6 x 7.4
15.5 x 9.3
10 mCi
BM07-10
Varicam
Rectangular
21.25 x 15.75
23.8 x 16.4
10 mCi
BM01L-10
Helix
Rectangular
21.25 x 15.75
23.8 x 16.4
10 mCi
BM01L-10
Other Manufacturers
Camera Model
Configuration
UFOV (in)
Active Dimensions (in)
Recommended Nominal Activity
RadQual Model No.
gviMD
mSPECT
Rectangular
14.8 x 9.5
15.5 x 9.3
10 mCi
BM07-10
One Pass
Square
8.5 x 8.5
10 x 10
10 mCi
BM05-10
Clear Vision
Square
8.5 x 8.5
10 x 10
10 mCi
BM05-10
IS2
SR (Single Head)
Rectangular
20.8 x 15.3
23.8 x 16.4
10 mCi
BM01L-10
Pulse CDC
Rectangular
15 x 10.2
18 x 14
10 mCi
BM01L-10
DCC
Rectangular
15 x 10.2
15.5 x 9.3
10 mCi
BM07-10
SC
Circular
15
18.5
10 mCi
BM02-10
Mediso Medical Imaging Systems
CardioSpect SC
Rectangular
20.8 x 15.3
23.8 x 16.4
10 mCi
BM01L-10
CardioCam
Square
15.5 x 9.3
10 mCi
BM07-10
CardioSpect SR
Rectangular
20.8 x 15.3
23.8 x 16.4
10 mCi
BM01L-10
CardioSpect D90
Rectangular
14.5 x 9
15.5 x 9.3
10 mCi
BM07-10
CardioSpectVMAX
Rectangular
20.8 x 15.3
23.8 x 16.4
10 mCi
BM01L-10
AnyScan
Rectangular
20.8 x 15.3
23.8 x 16.4
10 mCi
BM01L-10
Digirad
2020tc
Square
8 x 8
10 x 10
10 mCi
BM05-10
Ergo
Rectangular
15.6 x 12.2
18 x 14
10 mCi
BM04-10
Cardius Series
Square
8 x 8
10 x 10
10 mCi
BM05-10
Dilon
6800 Acella
Rectangular
15 x 10.2
15.5 x 9.3
15 mCi
BM07-15
6800 BSG
Square
10 x 10
0.5 mCi
BM05-99D
6800 BSG Attenuation
Plates
Square
10 x 10
3 mCi
BM05-99D3
Gamma Medica
Luma GEM
Square
8 x 8
10 x 10
10 mCi
BM05-10
Mid Atlantic Imaging
MiaCam
Rectangular
15.6 x 12.2
18 x 14
10 mCi
BM04-10
Universal Medical Resources
CorCam
Rectangular
15 x 10.2
15.5 x 9.3
10 mCi
BM07-10