RadQual Rod Sources | SPECT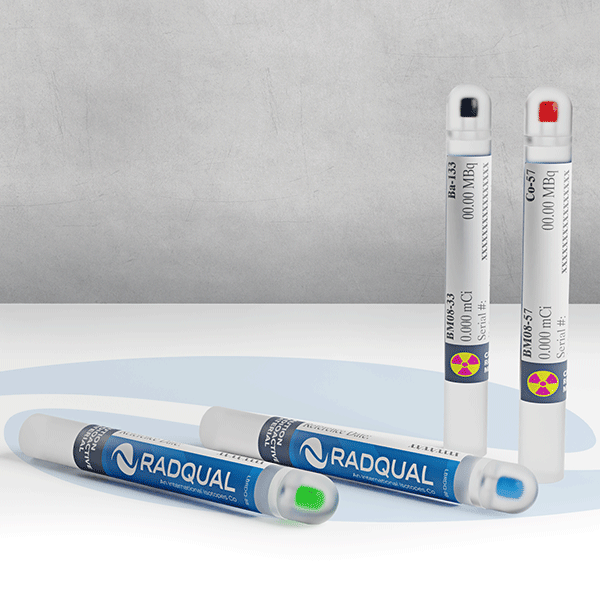 RadQual Rod Sources | SPECT
RadQual's calibrated rod sources typically have a calibration accuracy of ± 3% – 5% at a 95% confidence level.
The calibrated rod sources are manufactured by gravimetric transference of NIST traceable solutions and calibration is confirmed using a Sodium Iodide detector or Dose Calibrator.
Sources are available in 3" (76 mm) or 5" (127 mm) lengths with a diameter of 0.47" (11.9 mm).
Activity end is color coded to provide easier identification.
All sources are shipped with a certificate of calibration, leak test certification, radiation safety handling instructions, and a custom decay calendar.
| Model No. | Nuclide | Activity | Color |
| --- | --- | --- | --- |
| BM08-57 | Co-57 | 0.1 - 10 µCi | |
| BM08-60 | Co-60 | 0.1 - 0.5 µCi | |
| BM08-37 | Cs-137 | 0.1 - 5 µCi | |
| BM08-33 | Ba-133 | 0.1 - 5 µCi | |
| BM08-152 | Eu-152 | 0.1 - 5 µCi | |